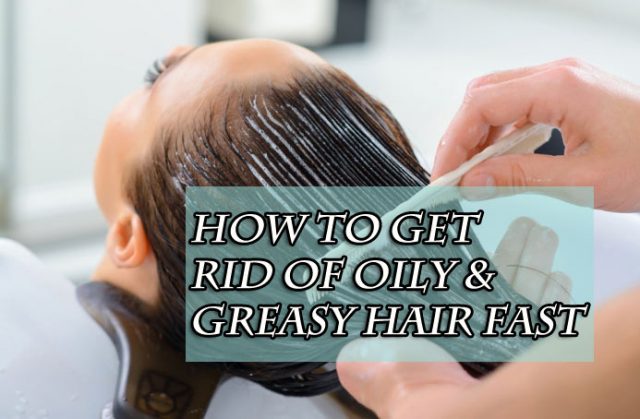 Who wants oily hair? Nobody! Who wants healthy hair? Everybody. For healthy hair, you need the oil balance in your hair and on your scalp to be maintained perfectly. Too much of it, however, makes your hair look disheveled and grossly shiny. Shampoos and conditioners are a part and parcel of your hair care regimen. Their side effects, however, slowly but surely take a toll on your hair. This results in a vicious cycle that causes the sufferer a lot of mental pain and agony. Before we get into them, let's tell you more about the issue.
Why is my hair so oily?
The oil secreted by different parts of your body is called sebum. A considerable spike in the amount of sebum produced by your scalp could result from many factors. An injury or infection on your scalp can lead to an oily scalp, as the skin begins to secrete more sebum as a protective barrier. Using a harsh shampoo can also have the same impact. When your skin's natural oils are lost, the body begins to overcompensate by secreting extra amounts of oil. Stress can also make your scalp secrete more oil than is necessary.
Difference Between Oily And Greasy Hair
Although these terms are used synonymously, oily hair is different from greasy hair. While oil refers to the sebum produced by the body internally, grease is the xternal residue that accumulates on your scalp, leading to a host of problems, such as, dandruff, hair fall, and scalp acne, to name a few. Excess secretion of sebum can occur due to the body's internal problems, like diseases and hormonal imbalances, but grease gets onto your scalp due to pollution and dust, which means that it is easier to deal with than sebum. However, grease can be a significant problem, too.
How to prevent oily and greasy hair
Thankfully, home remedies for oily scalp and greasy hair are available in abundance. The best solution for hair fall problems is to embrace natural ingredients beneficial for your scalp and hair into your daily routine. Also, slowly weed out chemical-based shampoos and conditioners that hasten hair fall. Make sure that you do not put too much pressure on your hair by tying it too tightly or brandishing it with hair products and heat from blow dryers and straighteners too frequently. While going out on days when the heat is very intense, or to places where there is a lot of dust and smoke, try to cover your hair with a cap or a scarf to protect it.
The most effective hair fall remedies are mostly natural, using readily available ingredients. Similarly, you can also rely on natural remedies for combating oily and greasy hair.
1. Salt – The Inexpensive and dependable remedy
We are very particular when it comes to exfoliating the skin on our face and body, but what about the scalp? The skin on our head also has dead skin cells that build up, blocking hair follicles, leading to dull hair, hair fall, and slow hair growth. Scalp buildup also prevents new hairs from emerging. Salt, which is readily available and very cheap, serves as an excellent scrub for your scalp. During your shower, wet your hair thoroughly and take a pinch of salt and rub it gently on your scalp, taking care to cover as much of the surface as possible. Afterward, thoroughly washing your hair is very important, because otherwise, the remaining salt adds to the built up dead skin.
2. Oil your hair regularly
Yes, you heard that right. The simplest way to control oily hair is to oil your hair regularly. Oiling your hair not only helps reduce secretion of excess sebum, but also the accompanying massage helps stimulate your hair follicles, making them grow faster and with added volume. Moreover, regular application of oil helps tame frizzy hair and split ends. There are plenty of oils available in the market, so choose one that is most suited for your hair issue. Apply the oil at least once a week, or preferably each time you shampoo to get optimum results. While washing, however, make sure that you have been able to get the oil out or go to a salon for a guaranteed thorough wash.
3. Curry leaves to the rescue
There are innumerable ways in which you can use curry leaves to turn around the state of your hair completely. Many celebrities swear by this remedy, and it is surprisingly easy to make a mask out of these leaves. Curry leaves are widely acclaimed for increasing natural rate of hair growth, and for improving the sheen and strength of your hair, and to free your hair and scalp of oil and grease overnight. Crush a few curry leaves, and grind them with a little bit of water till the mixture attains a paste-like consistency. Add yogurt for better results and apply the paste on your scalp. Wash it off after 30 minutes, preferably, with a shampoo made from natural ingredients.
4. Baking soda – the wonder solution to oily hair problems
We have all become dependent on modern ways of living. This is the reason why we continue to use chemically overloaded shampoos because we think we have no better alternative. However, baking soda makes for an excellent replacement, and an even better oily hair treatment. It cleanses your hair as effectively as a shampoo, without stripping it of its natural guard. Add two tablespoons of baking soda to half a cup of water. Use this ratio to prepare the amount of shampoo that is adequate for the length of your hair. Apply it generously, and wash it off after 15 minutes of massaging. Use once a week.
5. Cider, honey, and lemon – the healing cocktail
Apple cider vinegar came into the limelight when celebrities and Instagram stars began endorsing it as a potent elixir for losing weight. Its uses, however, extend far beyond weight loss. Lemon is known for its active cleansing properties. Toxins within the body, tan, grease on the scalp – it readily rids everything. Honey, on the other hand, soothes and nourishes. So, if you are wondering what to use for oily and greasy hair, mix the extracts of a freshly squeezed lemon with one tablespoon of honey and four tablespoons of apple cider vinegar to prepare a hair mask. Leave it on for 30 minutes and use once every week for fast results.
6. Mud pack – traditional and effective
A mud pack, with fuller's earth as its main ingredient, is a tremendous oily hair fix. The ingredient is well-known for its absorbing properties, and thus, is also a key component in many face packs for oily skin. Moreover, fuller's earth consists of many vital minerals that help adjust the pH balance of your skin, increasing the circulation of blood successfully. It also has a soothing effect on the skin. The ratio of water to fuller's earth should be 2:1 to form a paste. The quantity should be adjusted, depending on the length of your hair. The paste can be applied to the scalp and hair once a week. Wash it off after 15 minutes.
7. Aloe Vera – the magic ingredient
Aloe is an all-rounder when it comes to beauty fixes. It is loaded with the goodness of essential vitamins and minerals. The enzyme complexes present in aloe plants help rid hair of oil and dirt, while at the same time, replenishing your hair at the roots. Combine one teaspoon of pure aloe gel with one tablespoon of fresh lemon extracts, using 1 cup of a soft shampoo (which is free from parabens and SLS) as the base. The mixture can be used as both a hair pack and shampoo. Before washing it off, allow it to remain on your hair for a couple of minutes for better results. You can even choose to prepare a significant amount of the shampoo at one go as it can refrigerated and stored for a week.
8. Witch hazel – for overcoming hair grease quickly
If you want to know how to prevent greasy oil from seeking refuge on your scalp, look no further. The mother of all natural remedies for oily hair, witch hazel, works at the speed of light in eliminating residual buildup and excess oils from your hair and scalp. Regular usage can also help make your scalp less prone to flaking and dandruff. Even better, witch hazel is exceptionally gentle on the scalp, which means that people with sensitive skin can use it too. Apply the witch hazel serum through a dropper to cover the entire scalp evenly. Massage it properly into the hair.
9. Mayonnaise and strawberries – a superb hair-care combo
Strawberries are great antioxidants and their application can help combat not only oily and greasy hair, but a host of other hair problems as well. Moreover, they are rich in Vitamin C, which helps keep sebum production in check. The mayonnaise used in this remedy needs to be 100% organic and free of preservatives. Try to pick up a tub of mayo from the farmer's market, or one that has been locally produced, as these are less likely to contain artificial colors or preservatives. Grind a couple of strawberries and combine them with two tablespoons of mayonnaise to prepare a hair mask. Apply this topically on your scalp and let it be for 20-30 minutes before rinsing thoroughly.
10. Beer – it gets your hair feeling great too
As anyone who has ever suffered from a hangover would know, beer dehydrates you. Hence, it can help you keep your hair free from oil, without dry shampoo. Moreover, it is made from malt, which is a powerhouse of vital enzymes and vitamins, making its topical application extremely beneficial for your hair. Pour the beer from a can into a glass and let it sit for 30 minutes. Once you have finished washing your hair with the shampoo, use beer for a final rinse. Massage your scalp for some time before washing the beer off with cold running water.
11. Black tea – a quick cleanse for your hair
Black tea is rich in tannic acid that cleanses your hair and scalp as well as prevents future attacks from dust and grime by tightening the pores of your scalp. Prepare a cup of tea from black tea leaves and let it sit until it becomes lukewarm. Use it to rinse your hair, and let it sit for 5 minutes before washing your hair with shampoo. This procedure needs to be applied at least twice a week to achieve the desired results. Additionally, you can also use black tea as a mask by combining it with yogurt and honey, and applying it to your hair once a week.
Concluding remarks
Adhere to these tips and precautions religiously. Choose the ones that are the most convenient for you. Changing your hair care schedule once every couple of months is a good idea because even your hair gets used to the same treatment. Make sure that you undertake preventive measures as well to avoid future oil and grease buildup.
Related helpful resources –