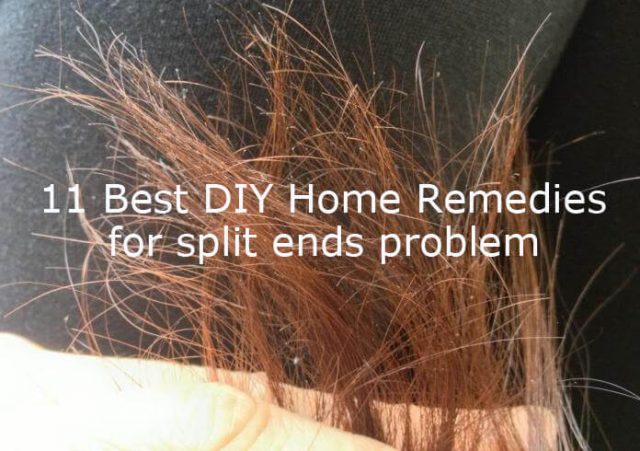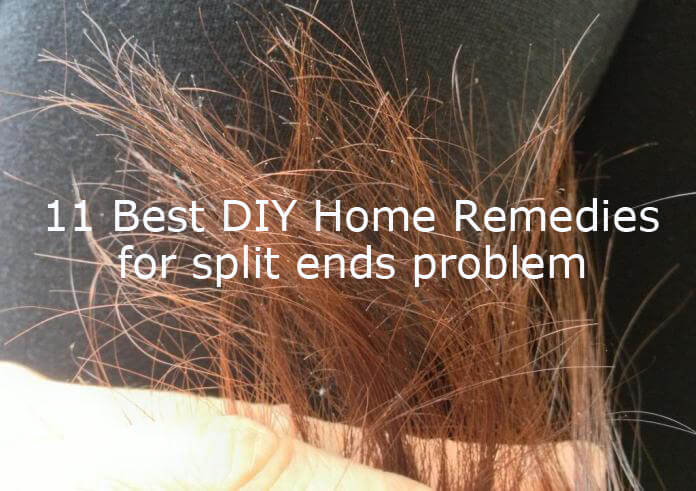 Split ends are perhaps the most dreaded among the common and frequent problems to strike our hair. It is also among the most damaging as it not only leads to hair breakage and hair loss but also makes the hair lose its shine and look sick. While it is very easy to get split ends, thanks to hectic lifestyle, bad food habits and pollution, the problem is that the usual treatment methods available in the hair salons tend to complicate matters. Now you know as to what are split ends; now let's tell you more about them, and how you can remedy the problem.
What causes split ends?
Split ends can happen due to a lot of reasons like excessive hair styling or washing, pollution, frequently changing shampoos, chemicals, using hot water for hair treatment, overexposure to the sun, vitamin and/or protein deficiency, or poor health in general.
Symptoms
Split ends make each hair follicle end up having at least two ends; however, if left untreated, the number can increase to four or five. Split ends should not be overlooked as with time, the splits will gradually grow along the hair shaft, either breaking up the hair or just dividing it up vertically. A long growth period also calls for checking the hair for split ends.
How to cut split ends?
For those with long hair, cutting split ends is not that hard. Divide your hair into small sections. Take a pencil or something similarly elongated and twist a section around it. The hair follicles having the split ends will be sticking out. All you need to do now is to take a scissor and cut off these strands. Repeat this with the other sections. In case of it happening to those with short hair, you need to thoroughly trim your hair and undergo treatment. Then, of course, there are the split ends trimmers available in the market for those really bad split ends. Burning off split ends is ALWAYS a bad idea.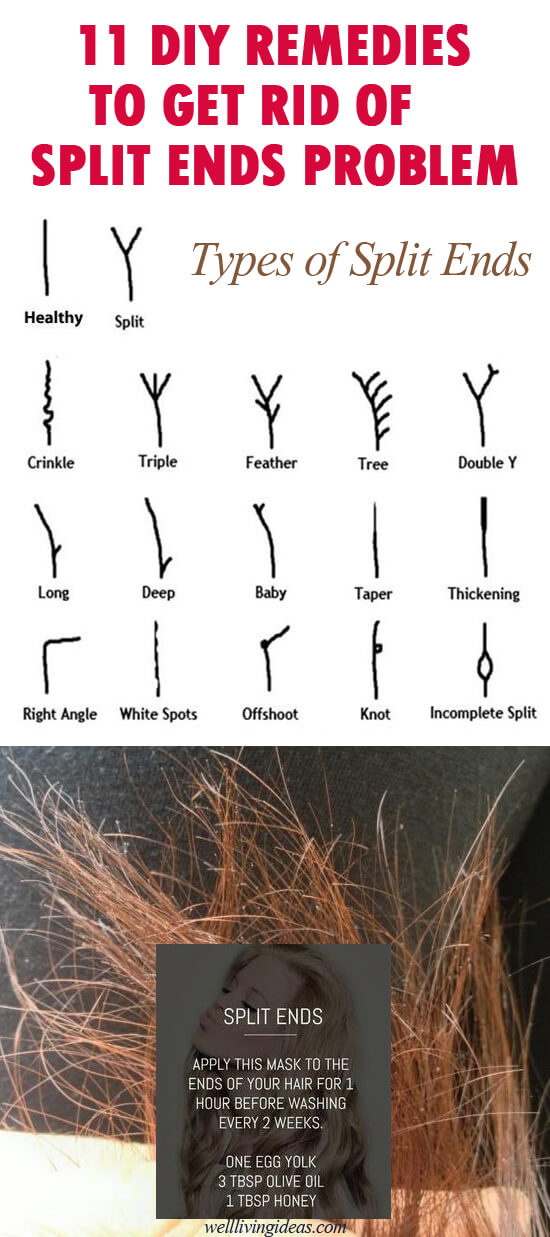 How to repair split ends?
Here are some home remedies you can use to get rid of split ends without cutting your hair.
Egg
The proteins found in egg are very beneficial for the hair and you can make a mask with it to strengthen the follicles, to make your hair smooth, preventing friction and weakening in the process.
To make the mask, break an egg into a bowl and add a teaspoon each of olive oil and honey to the contents of the bowl. Now whisk the ingredients thoroughly in order to mix them well before applying the mixture on your hair. Keep it on for an hour before rinsing it off with water. Then use a mild shampoo and conditioner for the best effects. Repeat this twice weekly.
You can also use almond oil instead. Apply the mixture on damp hair and let it remain for 20-30 minutes before rinsing. Then use a mild shampoo.
Papaya
Papaya has a high protein content that helps to mend tissues and thus reduces split ends. It also helps in increasing hair volume, removes the buildup, and nourishes your hair, restoring its softness and shine. To get the full benefits of papaya, prepare a mask. Peel and deseed half a papaya. Then blend it with half a cup of yogurt till a smooth mixture is formed. Wash your hair. Now apply the mask and keep it on for at least half an hour. Rinse your hair with water after this and then apply a mild shampoo. Do this once weekly or twice or thrice a month, as per your needs, for some months.
Mayonnaise
Apart from giving your food an awesome taste, you would be surprised to know that mayonnaise is awesome for your hair too. It not only prevents split ends but also acts as a natural conditioner and makes your hair soft and shiny. This is due to the egg proteins and fatty acids in it which are very good for your hair.
To use mayonnaise for split ends treatment, first, wash your hair and dry it well with a towel. Then apply at least half a cup organic mayonnaise on your hair, especially on the damaged sections. To protect from dirt and grease, cover the hair with a shower cap after that and let it remain for half an hour. Then wash your hair with lukewarm water and a soft sulfate-free shampoo. You may condition your hair after this if you want to. Do this once a week.
Honey
Honey has great humectants properties, meaning it can attract moisture. It is also rich in nutrients. These make honey a very good remedy for dry and damaged hair, which have more chances of splitting. These also make it a natural conditioner, thus moisturizing your hair and making it shiny and soft. You can repair split ends by any of the following ways.
Prepare a mixture of honey and curd and keep it on for 15-20 minutes before rinsing it off with warm water.
Mix 3 tablespoons each of olive oil and honey. Apply this on your hair and wash it off after 20 minutes.
You can, of course, prepare the egg mask using honey listed above.
Add 2-3 tablespoons of honey in half a cup of water. After shampooing your hair, apply it on your hair and let it be for 2-3 minutes. Then rinse your hair with warm water. Repeat this once weekly.
Avocado
Avocado has a high content of proteins, essential fatty acids like Omega-3 fatty acid, folic acid, vitamins A, D and E, magnesium and other such nutrients which nourish the hair and help in its growth. Avocado also softens the hair.
To get rid of split ends, you can prepare a hair mask using avocado. Mash a ripe one and add two tablespoons each of coconut oil and olive oil till the mixture becomes smooth and creamy. Avoiding the roots, apply this mask on your hair in the required amount. Keep this on for half an hour at least before rinsing it off with water. Then apply some shampoo. Do this once a week, or twice or thrice a month, as per your needs.
Aloe Vera
Thanks to its strong antioxidant and antimicrobial properties, aloe vera is good for your hair and scalp. It also acts as a natural conditioner and a natural moisturizer due to its high moisture content. To use it, extract 2 tablespoons of aloe vera gel from a freshly cut leaf. Wash your hair well and then apply a good and mild conditioner. Rinsing your hair thoroughly, massage the extracted aloe vera gel well into your scalp and cover every bit of it. Let it remain for around 5 minutes. You can put on a shower cap during that time to prevent dirt from settling in. Then rinse your hair thoroughly with water. Do this twice a week for the best results. You can also use aloe vera based shampoos for split ends.
Beer
Beer is very good for repairing damaged hair follicles as it is high in decomposed proteins and filtered sugar which help in repairing the hair shaft. Being a good natural conditioner, it nourishes your scalp and thus makes your hair thick and shiny. To go on about it, first shampoo your hair thoroughly. Divide it into sections. Pour the required amount of flat beer in a spray bottle and spray it over the middle and end of each section of your hair while it is still wet. Keep this on for 2 to 3 minutes at least. There is no real need to rinse this as the smell would go away once your hair starts drying. Do this once every week.
Apple Cider Vinegar
Apple cider vinegar is a home remedy that can be used for dealing with a wide range of problems. Because of its acidic nature, it moderates oil production from the sebaceous glands in your scalp. This, in turn, prevents your hair from becoming greasy. It also cleans the hair shaft by removing dirt and buildup, thus strengthening it and making it more receptive to other treatments.
Using apple cider vinegar for hair breakage and split ends treatment is very simple. All you need is two cups of water and two tablespoons of the apple cider vinegar. Dilute the vinegar with the water in a jug and let the things set in for at least 5 minutes. In the meantime, wash your hair and condition it before washing that off as well. Finally, rinse your hair with the prepared solution. There is no need to wash your hair anymore after this. Do this once or twice a month for healthy and shiny hair.
Oils
Using oils is the oldest, the easiest and the best treatment for split ends. So follow your grandma's advice and oil your hair at least once a week. Avoid the dust and pollution once you have applied it. Best is to leave it on for the night before washing your hair thoroughly with a mild shampoo.
To get the best out of your regular coconut oil, add some dried rosemary herb to it. Rosemary is very good for your hair as it slows down premature graying, encourages blood circulation in your scalp and moderates sebum production from the glands, ensuring smooth, strong and grease free hair. Just put in a few strands of the herb to the oil and microwave it for 15 seconds before applying.
Another way to go about it is to add a few drops of a good essential oil like that of lavender to the above mix. Lavender too moderates sebum production, promotes hair growth and fights hair loss. Olive and almond essential oils have also been found good for this. Mix these well. Massage your scalp thoroughly with the mixture by moving from the roots to tips in circular, smooth motions. Let it remain for around an hour. In case of extremely dry hair or a large number of split ends, leave on the oil for the night. Now wash this off with some lukewarm water and a mild shampoo. Repeat this twice weekly for the best results.
Henna
This is one of the best ingredients out there to take care of all your major hair problems. It acts by soaking into the hair follicles, thus nourishing them. It is also a natural hair conditioner. And as a bonus, it gives a beautiful shade to your hair, in case you are looking for a superb and healthy alternative to the dollops of ammonia-based damaging colors you regularly put on your hair. You can decrease or increase the intensity of the color by changing the time you allow it to sit for, and the amount, accordingly.
Henna prevents split ends by maintaining the pH balance of the scalp and maintaining the hydration in turn. Because of this, it is also an awesome remedy against dandruff.
To use henna against split ends, you need to add a tablespoon of Indian gooseberry powder and lemon juice each to 5 tablespoons of henna powder in a bowl. Add 2 tablespoons of yogurt to the powder. For the maximum color, use an iron bowl. Next, mix these thoroughly as to get a smooth and thick paste, and cover it and let it sit for at least 45 minutes. You can keep it overnight. The longer you keep, the stronger the color. Finally, part your hair into small sections and apply the mixture. Let it remain for at least half an hour before washing it off with lukewarm water. For the best results, repeat the process every 15 days.
Milk and Cream
Like eggs, milk too has a lot of proteins which are really very good for your hair as they help in hair growth and tissue repair. Its high calcium content makes it good for your scalp and your hair health in general. Milk and cream also increase moisture content in your hair and makes it smooth and shiny, thus preventing breakage and split ends. In half a cup of whole milk, mix a tablespoon of milk cream. Batter these well so that they mix well. Wash your hair with water. Then rinse your hair with this prepared mixture and keep it on for 15-20 minutes. Rinse this off with water before applying a mild shampoo in your hair. Do this weekly for a few months. Keep in mind that this process takes some time to act and should be used as a preventive to keep your hair healthy. You can also continue this with other split end repair procedures
How to stop split ends?
Here are some things you can do to avoid split ends from occurring altogether.
Drink plenty of water.
Style your hair as less as possible.
Do not brush wet hair, no matter how urgent the need.
Eat food items rich in vitamins A, B12 and C.
Avoid hot water on your hair as much as possible.
Use a comb with soft bristle and widely spaced teeth.
Try to avoid hair products with alcohol as much as possible.
Avoid sun exposure as much as possible and use a scarf while going out if you can.
Armed as you are with these healthy and easy remedies to fix split ends at home, it is never a bad idea to consult your doctor, in case there is some serious underlying health issue. You can also consult your dietician for this. All the best!